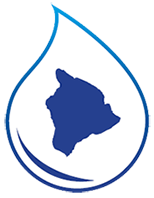 In observance of September's National Preparedness Month, the Department of Water Supply (DWS), County of Hawai'i, says Don't Be Scared, Be Water Prepared by assembling water supplies for emergency use during a natural disaster.
Don't Be Scared, Be Water Prepared is the DWS' new educational campaign. It provides guidance for maintaining emergency supplies of safe drinking water should a hurricane, volcanic eruption, or other natural disaster damage any of the Department's water systems island wide.
Don't Be Scared, Be Water Prepared by:
 Determining Water Needs so each person will have the recommended 14-gallon supply to last two weeks. See https:// dod.hawaii.gov/hiema/public-resources/preparedness-information/;
Storing Water only in clean, dedicated, food-grade containers. Visit www.ready.gov/water;
Treating Water if a boil notice has been issued, tap water appears discolored or system
contamination is suspected; and
Practicing Water Conservation to extend limited supplies. Learn how at www.hawaiidws.org/.
Natural disasters, power outages, or other unplanned events can interrupt the Department of Water Supply from delivering a reliable supply of safe drinking water to all customers. Water pumps require electricity from the island's power grid. Downed powerlines or electrical spikes may leave well pumps and water pumping stations inoperable for extended periods. A natural disaster can severely damage waterlines, storage tanks and other water infrastructure, possibly causing a lengthy disruption in water service. Water systems also are vulnerable to earthquakes, wildfires, and extreme drought.
The U.S. Environmental Protection Agency (EPA) has chosen the theme "Disasters Don't Wait. Make Your Plan Today" for National Preparedness Month 2020. Visit www.epa.gov/natural-disasters/september-preparedness-month to learn more about preparing for natural disasters.
Hawai'i's hurricane season is June 1 to November 30 https://health.hawaii.gov/prepare/advisories/hurricane-season/.