The Water Board of the County of Hawaiʻi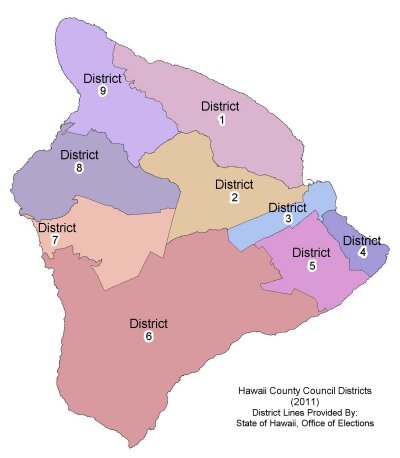 The Water Board consists of nine members representing each of the nine (9) council districts of the County of Hawai'i. Board members are appointed by the Mayor and approved by the County Council for a five (5) year term. The Manager-Chief Engineer of the Department of Water Supply, the Director of Public Works, and the Planning Director serve as ex-officio members who do not have the power to vote. The Water Board normally meets monthly on the fourth Tuesday at 10:00 a.m. Please call 808-961-8050 for more details or check the Board Schedule page for locations and times.
Pu'u'eo, Wainaku, Kaiwiki, Pauka'a, Papa'ikou, Onomea, Pepe'ekeo, Honomū, Wailea, Hakalau, Nīnole, Papa'aloa, Laupāhoehoe, Waipunalei, O'okala, Pa'auilo, Pa'auhau, Honoka'a, Kukuihaele, Waipi'o, Āhualoa, Portion of Kamuela, Pleasant Acres, Nani Waimea, Kamuela Highlands, Kamuela Lakeland, Kamuela Meadows, Kamuela Havens.
Downtown Hilo, Bayfront, Wailoa, Portion of Waiākea Houselots, University Heights, Komohana Gardens, Portion of Waiākea- Uka, Lanakila, Mohouli, Ainako, Kaūmana, Pi'ihonua, Wailuku, Waiānuenue.
South Hilo, Portion of Puna, (Banyan Dr., Keaukaha, Hilo Industrial Area, UHH, Puainako Houselots, Portion of Komohana Subdivision, Haihai Subdivision, Portion of Waiakea Homesteads, Portion of Upper Waiakea Uka, Macadamia Nut Farms, Pana'ewa, Kulani, Kea'au Shopping Area, Kea'au High School).
Michael Pono Kekela, 12/31/2026
Portion of Puna (Eastern) (Hawaiian Paradise Park, Portion of Orchidland Estates, Hawaiian Beaches, Portion of Pāhoa Town, Nānāwale Estates, Leilani Estates, Pohoiki, Kapoho).
Steven A. Hirakami, Chairperson, 12/31/2023
W.H. Shipman Industrial Park, 9-1/2 mile Camp, Kea'au Ag Lots, Kurtistown, Mt. View, Glenwood, Orchidland Estates, Ainaloa, Hawaiian Acres, Fern Acres, Eden Roc, Fern Forest Estates, Mauka of Pāhoa Town, Kaohe Homesteads, Kamali'i Homesteads, Kalapana, Opihikau, Kehena, Kaimu.
Ka'u, Portion of South Kona (Volcano, Pāhala, Nā'ālehu, Ocean View, Miloli'i, Ho'okena, Hōnaunau, Ke'ei, Nāpo'po'o, Captain Cook, Portion of Kealakekua, Keōpuka Heights, Kona Hospital, Keōpuka Kai, Hōkulia Golf Course).
Portion of South Kona, Portion of North Kona (Portion of Kealakekua, Kona Scenic Subdivision, Kainaliu, Honalo, Keauhou, Kahalu'u, Holualoa, Kona Hillcrest, Pualani Estates, Sunset View, Kuakini Heights, Ali'i Heights, Kona Industrial, Lono Kona).
Stephen Lopez, Vice-Chairperson, 12/31/2026
North Kona (Kailua View Estates, Malulani Gardens, Hualālai Farms, Keōpū Mauka, Kailua Heights, Kealakehe, Honokōhau, Kaloko, Kohanaiki, Kalaoa, Keāhole, Mākālei, Makalawena, Pu'uanahulu, Waikoloa Beach Resort).
Mauna Lani Resort, Waikōloa Village, Puakō, Waiki'i, Portion of Kamuela, P'ukapu Farms, Pu'ukapu Homesteads, Pu'ukapu Village Houselots, Lualia, Pu'u'ōpelu, Lālāmilo, Wai'aka, Kawaihae, Kohala Ranch, Māhukona, Hāwī, Kapa'au, Hal'ula.